Audient SONO Audio Interface for Guitarist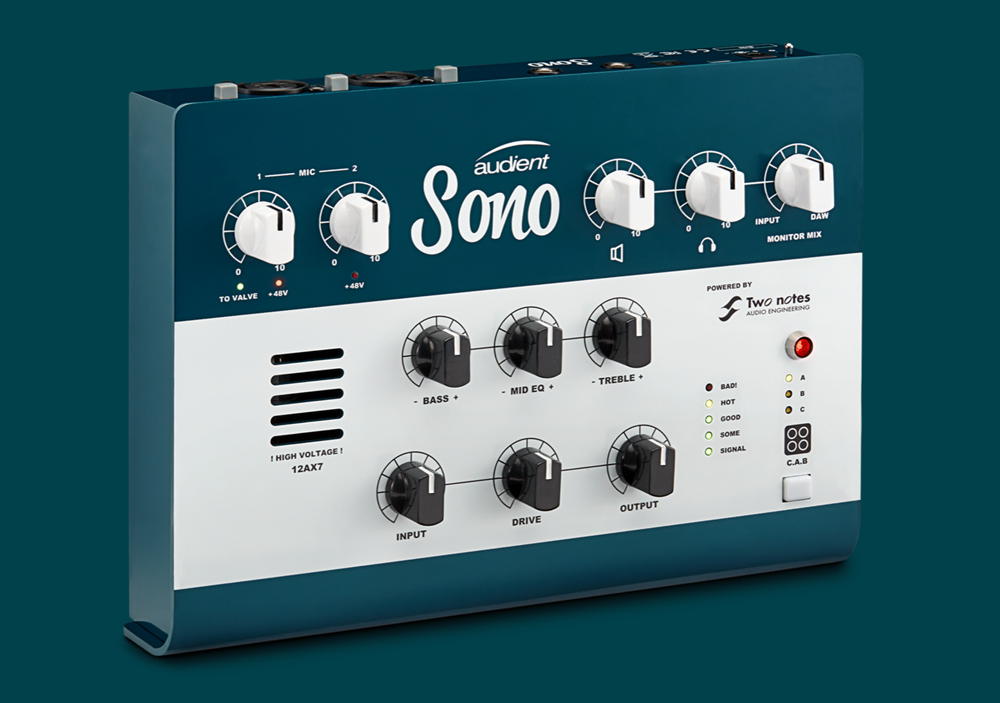 Are you a guitarist?
If the answer is yes then Audient has the ideal product for you – The Audient SONO!
WHAT IS SONO?
SONO is the ultimate audio interface made specifically for guitarists. The idea behind SONO is to provide the guitarist with the perfect solution to record your guitar at home, retain all the tone you get from an amp and not upset the neighbours.
It features a Valve Preamp guitar input stage, a 3 band analogue EQ section, and a tube drive knob. This all feeds Two Notes Torpedo Power Amp and Cabinet Modelling software. SONO Features ZERO latency monitoring when used with any DAW, whether it's the supplied Cubase recording software or Logic, Pro-Tools or Ableton. Once you dial up a sound in the Torpedo software you can save this to one of the 3 preset switches on the SONO hardware – this means you don't have to turn on your computer every time you just want to rock out – Bonus!
Why would you choose a SONO over any of the other Audio Interfaces on the market?
Sure this interface is geared at the guitarist for the above-mentioned features but don't think of it like that. Think of SONO as the ultimate recording package. It has the same legendary Preamps that are found on Audients Large format Analogue Recording console – the ASP8024 – This alone is worth the admission price, but it doesn't stop there. You get a tube that can be kicked into one of those preamps to warm up your vocals. The headphone amp is clear and loud – just what you want for monitoring. SONO has ZERO Latency Monitoring so you won't get any delay when recording. It has High-Performance AKM AD/DA Converters for a super transparent sound. Throw all this on top of the Guitar specific features and this is an interface that kicks serious butt!
SONO Retails in Australia for $575 // CLICK HERE to find out where to buy the Audient SONO in Australia.
TWO NOTE AMP and CAB Modelling
Play and record through some of the best guitar and bass cab models including flawless reproductions of classics such as the Marshall 4×12, Fender 2×12, Ampeg 8×10 and many more. You can customise room type, select from a wide range of cabs, download extra cabs, choose a microphone type, customise the mic position then saves your favourite combination onto one of 3 dedicated button on the SONO hardware.
ZERO LATENCY and ONBOARD DSP
The TWO NOTE AMP and Cabinet software DSP is built directly onboard the SONO hardware.  What this means is there is zero latency when recording or performing live. This is important because a guitarist will pickup even the slightest latency delay. For live performances you can save your favourite amp and cab model to 3 separate presets on the SONO hardware. You can then switch between these at the press of a button.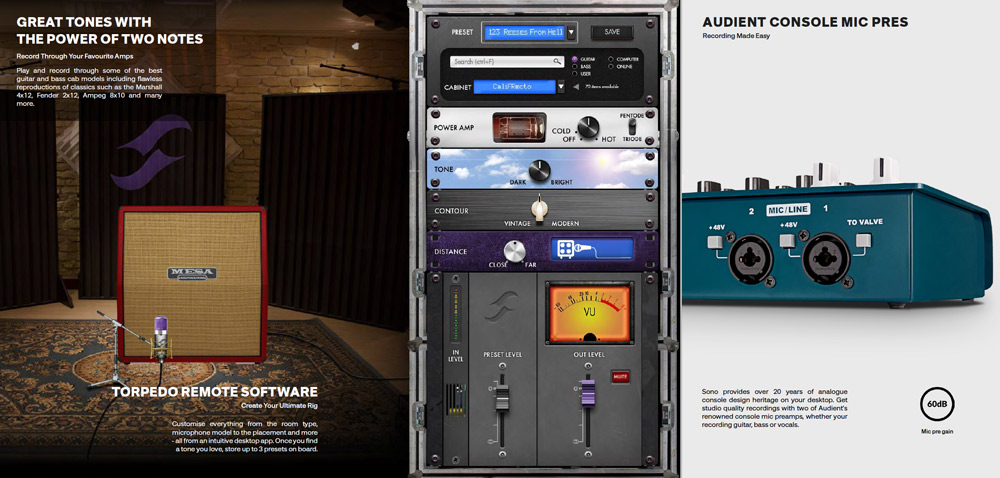 REAMP OUTPUT
You also get a REAMP output so you can feed your clean recorded guitar sound, out the dedicated REAMP output and into one of your favourite amps to mic up.
On top of all this you get 2 Audient high gain console microphone preamps, a powerful headphone output and quality DI. You can record your guitar and microphone at the same time. Play and sing and have each performance recorded onto different tracks in your DAW.
ADAT Digital Input Expansion
Lastly you get an adat digital input enabling you to add the Audient ASP800 or 880 for an additional 8 channels of simultaneous inputs recorded onto different tracks.