BLANCA BONDI KITS OUT WITH GENELEC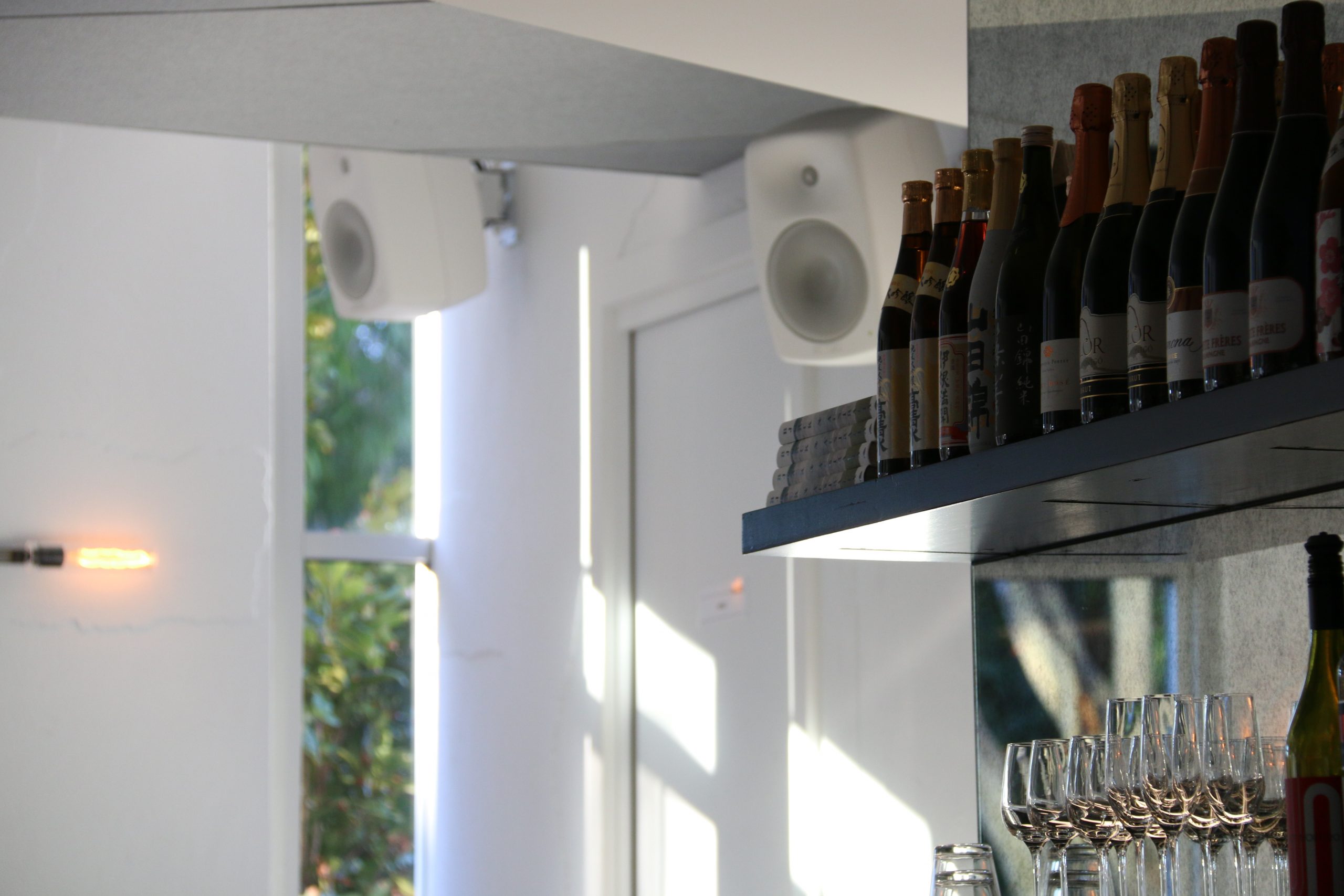 The first thing you notice when you enter the new Bondi Restaurant – Blanca is how inviting it is. During the day the sunlight filters through large glass windows that flank 2 sides of the restaurant. The second is how friendly the staff is.
I was at Blanca to take some photos of the Genelec Speakers that are dotted around the restaurant – Studio Connections, the company I work for are the Australian Importer for Genelec and we wanted to record how they looked in the restaurant environment. Genelec are a high-end Finnish speaker brand – They make Professional Monitors, Home Hifi Systems and install speakers for businesses much like Blanca. From a design point of view this model fits in really well and being white look great against the whitewashed walls of the restaurant – they sound fantastic too and when it's time to clean down at the end of the night I expect the volume gets a little nudge.
About Blanca
Blanca is a new venture by Finnish chef / restaurateur Tomi Bjorck and Wollongong ex pat chef Samuel Cole. Working in many of the top Michelin stared restaurants around the world both these guys know their stuff so I was keen to book a table and sample some of their exciting sounding Japanese inspired dishes. I gathered up some foodie friends who I had previously worked with in kitchens around Sydney and made the journey back a week later.
When our party arrived I was surprised that everyone I'd briefly met the week prior remembered me and greeted me with the same enthusiasm that I had initially noticed. This is great service.
Blanca is hidden away at the rear of the fairly new Hall street food precinct. It's nice to be away from the rush of Hall Street. The room is open plan. Bright and airy with a bleached colour pallet that is punctuated by the glow of some very cool custom lighting. The seating is comfortable and during the final month of Autumn the restaurant felt cozy.
We settled in with a few cocktails before deciding on the food choices. Initially we couldn't decide and instead of going a la carte settled on the 10 course aptly named Tasting 10 menu. Much of the selection is seafood so we decided on a nice Claire Valley Riesling. The food started arriving within 5 minutes of ordering which I must say was very snappy considering the restaurant was full at the time of our seating. We kicked off with some Sydney Rock oysters followed quickly by a raw beef and Sesame leaf and pickle wrap which was delicious. Soon after came the Bonito Pastrami – which is an interesting take on thin slices of Bonito cured in a pastramiesque manor. The dishes seem to come non-stop and when the miso caramelized pork ribs arrived we wondered if the Tasting 10 was 2 dished too much for us. Surely not, however we could have perhaps finished up with just one desert – two is just being greedy. We ended our night with one of the most amazing drinks I've every tasted. It was YUZU and SAKI over ice. I have no idea what it's called – all I know is I want some more and I'll be sure to order it next time I'm in.
We all had a fine night out and what initially started off as a photo gathering mission for work ended with a great night of dining in one of Sydney's most exciting new restaurants – you need to check it out!
Genelec G Series Speakers were purchased from and Installed by Local Sydney G Series dealer Krispy Audio