New Audio Interface from Audient – Meet EVO 4 By Audient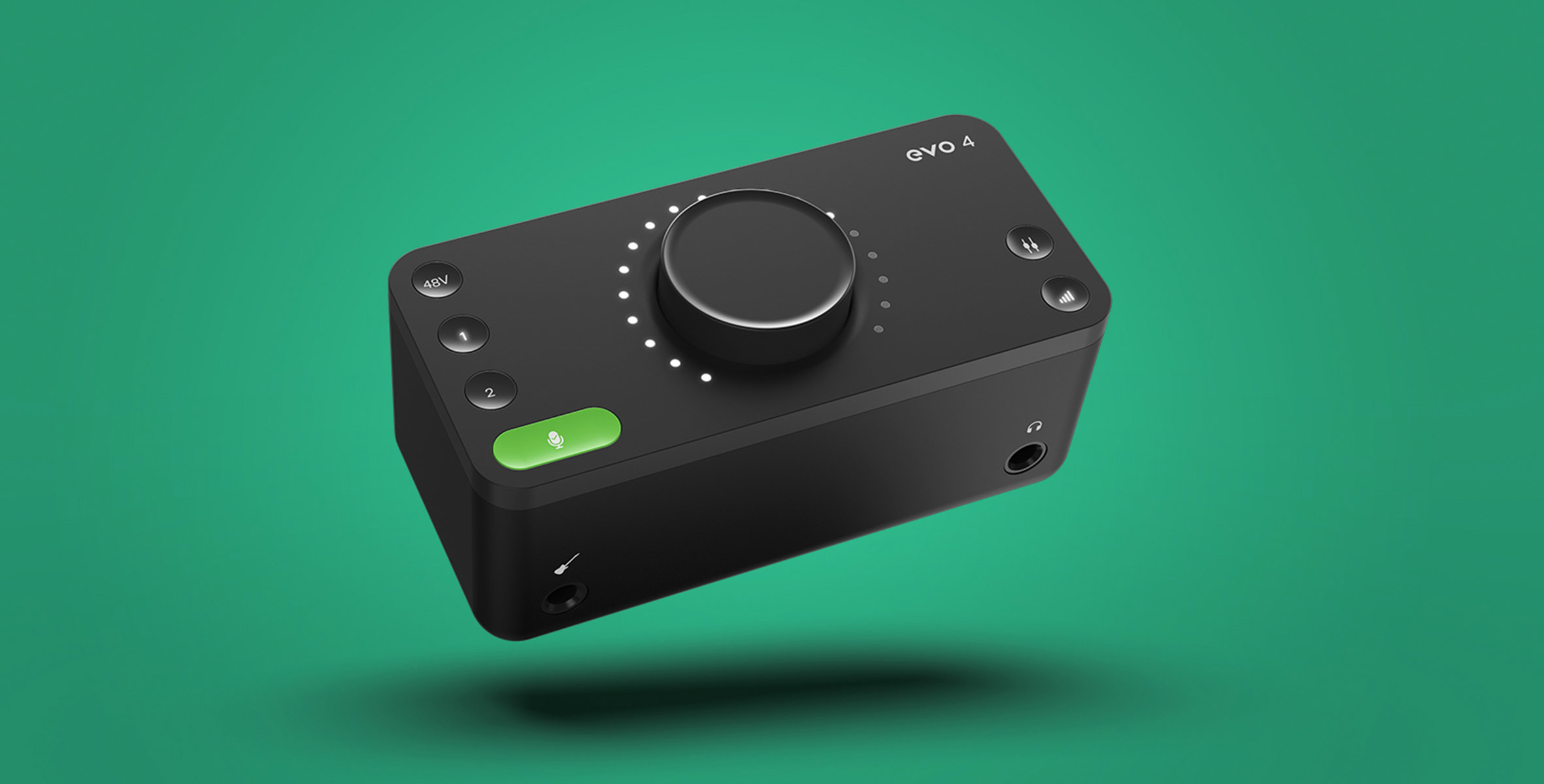 Who and what is EVO?
EVO is a new High Tech Audio brand formed as a division of the popular UK Pro Audio Brand Audient.
EVO 4 is the first product released by EVO and we expect many more to follow.
So what is EVO 4?
EVO 4 is a brand new 2 channel audio interface that has some very smart features. More on this in a minute…
How Much is EVO4? The current RRP in Australia is $220
LOOKS ARE IMPORTANT
The first thing you notice even before you open up the box is how sleek EVO 4 is. The outer box opens like an expensive smartphone – (it wouldn't be out of place at an apple store) and once you open up the box, the unit itself strikes a modern, minimalist design aesthetic. It looks expensive, but it's not. At an RRP of $199 AUD, it's incredibly affordable. EVO hasn't skimped on quality either. Yes, it is made of hard plastic but it feels substantial and has the perfect weight to it. With Audient behind the technology you just know this unit will sound great too. And it does! EVO has taken over 20 years of Audient's technical knowhow and distilled it into the EVO 4.  Just check out the specs below.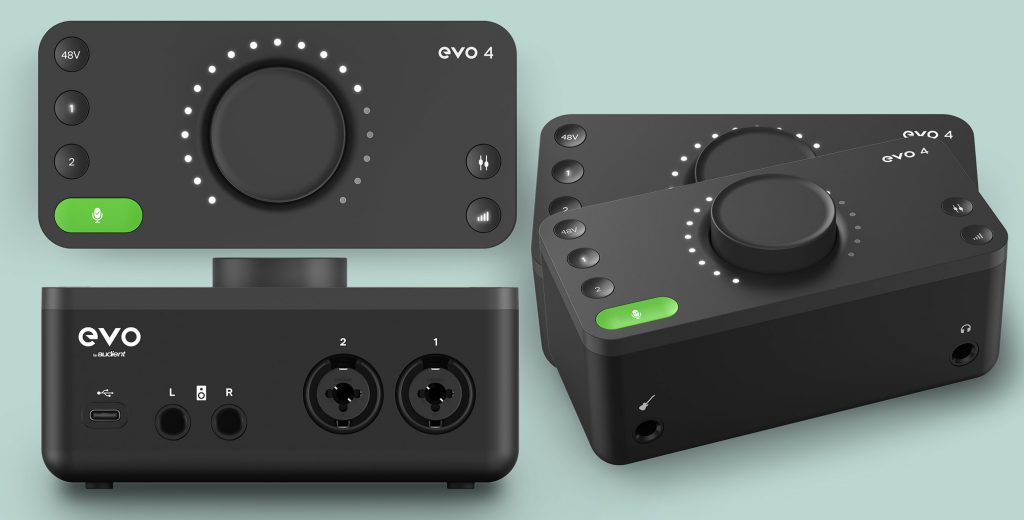 SOME COOL FEATURES
SMARTGAIN MODE – Smart Gain is a feature that separates EVO from any other Audio Interfaces on the market. Smart Gain essentially sets your recording preamp gain automatically so you can get on with being creative. Being creative is the backbone of the EVO philosophy. They want to take the technical side out of the recording process which in turn makes the singer, guitarist, keyboardist, flugelhorn player to focus on what's important – capturing that perfect take. At the press of a button, Smartgain sets the perfect level for whatever you want to record. EVO does this for each input independently.
SMART TOUCH
The EVO Smart Touch Feature allows you to control your speakers, headphones and input channels all from one knob. Simply touch a button and the big centre knob does all the work. This not only simplifies the workflow but it adds to the sleek minimal design of the EVO4.
CONNECTIONS
EVO 4 provides connections for two independent mic/line inputs on multifunction XLR/Jack connectors. It has a high gain stereo headphone output on a professional 1/4 inch connector. You get a JFET instrument input for guitars and bass, a pair of 1/4 inch outputs for left and right. The last connection is the USB C connector to connect to up your computer – whether it's a Mac PC or IOS device.
LOOP PLAYBACK For Gamers and Streamers
Loop Playback enables the user to Record Audio from the Computer and EVO inputs at the same time.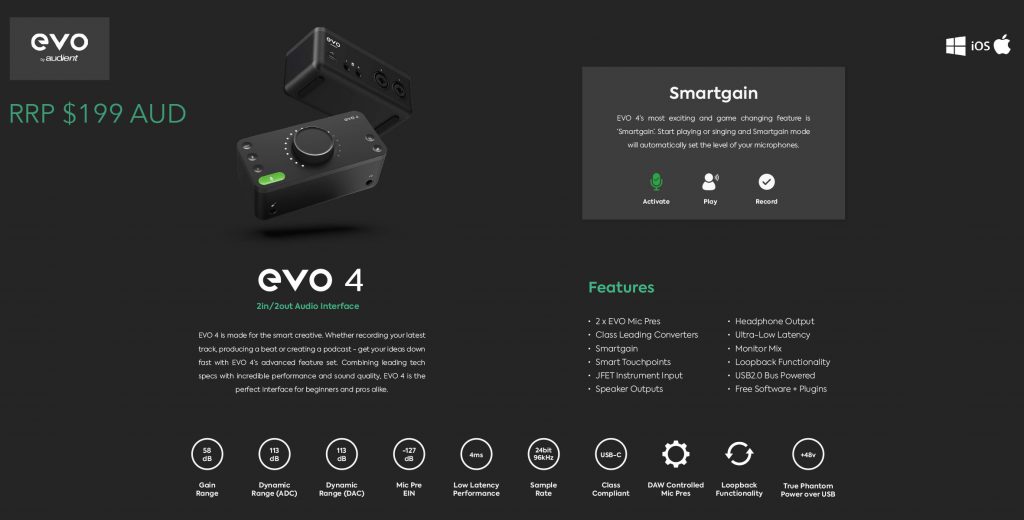 Compatible With
Mac
Windows
iOS (with powered USB hub)
Important Tech Specs:
Mic Pres:
58dB Gain Range
-127dB Mic Pre EIN
<0.001% Distortion
Very low crosstalk
Converters:
113dB Dynamic Range (ADC)
113dB Dynamic Range (DAC)
Latency:
Windows:
32 Samples
44.1k: 5ms
96k: 4.1ms
16 Samples
44.1k: 4.74ms
96k: 3.9ms
Sample Rate:
24bit
96kHz
CLICK HERE for where to buy EVO4 by Audient in Australia
CLICK HERE for any Additional Information