SCHOEPS V4U STUDIO VOCAL CONDENSER MICROPHONE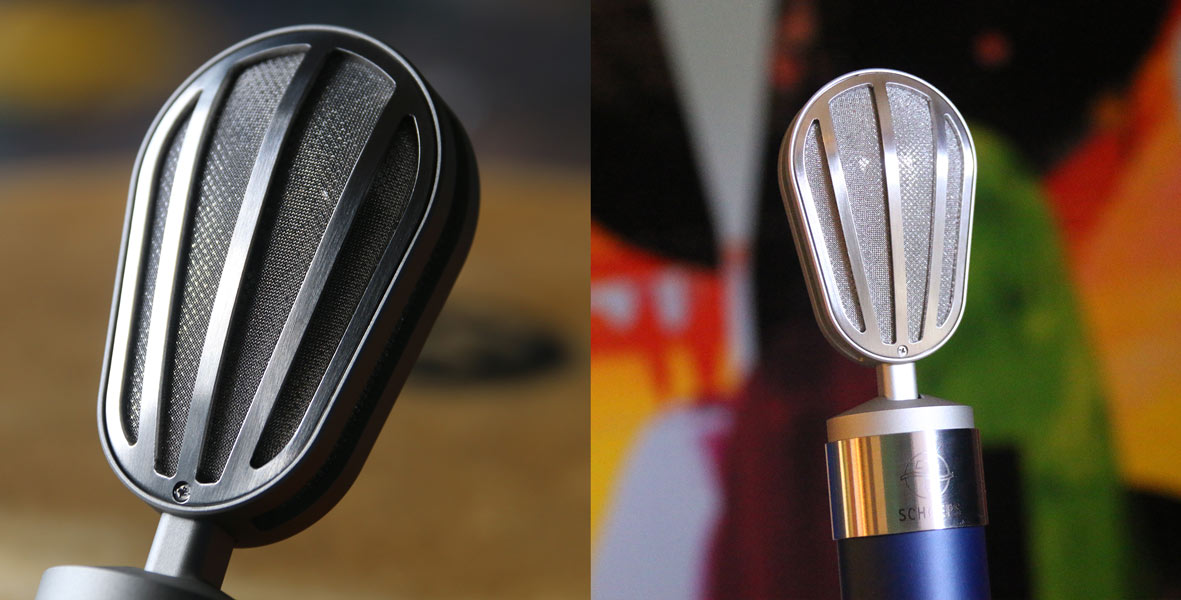 Schoeps Mikrofone > how do you pronounce it? Watch the video at the end of this article to find out.
The Schoeps Microphone company was founded in 1948 and is known for the production of high-quality condenser microphones used in Film, Concert, Broadcast, Conference, Sports, Surround, 3D and Studio recording. The name Schoeps is synonymous with quality. The company has never compromised on perfection and quality and has never been interested in venturing into the lower end of the microphone market. No doubt if you own a Schoeps microphone it will be with you for life.
Their famous modular "Colette" series – which was born from their belief that the focus should always remain on the artist while maintaining the highest level of sound quality, can be seen used in live performances by some of the world's most applauded performers, including Pavarotti and the Three Tenors just to name two.
Schoeps Shotgun microphones are recognised as an international standard in film and sporting events. However, one area where Schoeps may not have always been the dominant choice is in the recording of pop and rock vocals in the studio. Names like Neumann, AKG and Telefunken are ubiquitous in this scenario but with the advent of the V4U, Schoeps may just be the microphone that can change all that.
Schoeps had one thing in mind when designing the V4U – a studio vocal microphone.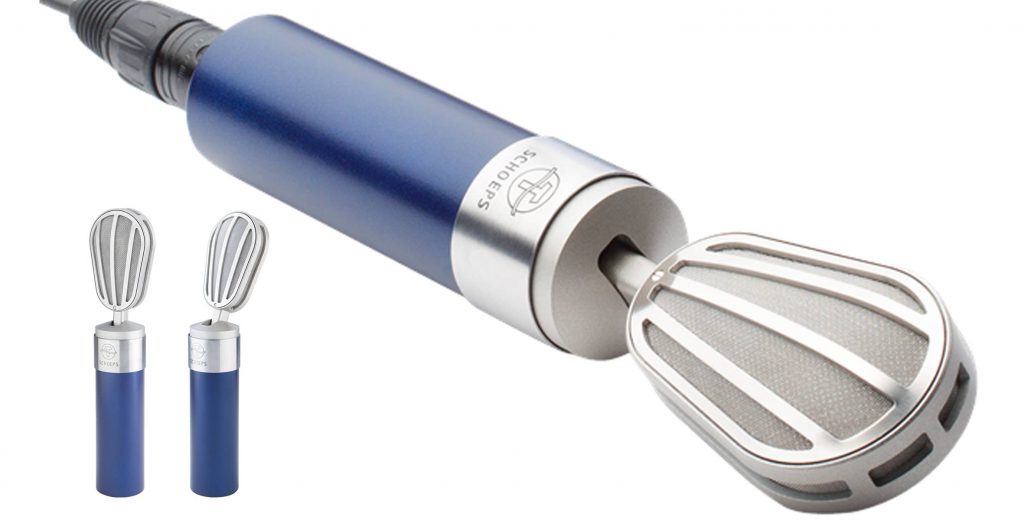 The V4 microphone was introduced into the Schoeps Microphone family in 2014. The first thing that strikes you about this mic is its great look. This microphone is visually stunning. The V4 takes it's visual cues from, and pays homage to, the classic Schoeps CM 51/3 microphone introduced in 1951, with its distinct blue body and vintage styled capsule. "When the time came to develop a new, modern capsule for studio applications, this older visual design came to mind".
The V4U presents as a large-diaphragm microphone in size but it remains a true small-diaphragm microphone with all the advantages that a small diaphragm provides.

So what are these advantages?
Well designed small-diaphragm capsules provide superior acoustic qualities to their larger cousins maintaining extraordinarily smooth frequency articulation and a defined and accurate polar response. The V4U uses a 33mm bevelled ring surrounding the actual capsule that enables the capsule's directivity to increase steadily and smoothly at high frequencies. So what does this mean in the real world? Essentially what you get is a smooth top end without exaggerated sibilance or frequency bumps and a very constant off-axis polar response. Both very important qualities when recording a vocal. You don't want the tonality of a vocal performance to change drastically when a singer moves off the mic. The other incredible thing about this mic is its ability to absorb high SLP without distortion. Often when using large-diaphragm microphones the sound output can become hard and brittle when a vocalist sings an especially loud sequence of notes. Have you ever recorded a vocalist with the correct preamp gain setting only to find later that the recording sounds harsh and thin when they've hit a loud note? This is something you cannot fix in the mix.
When designing this mic the Schoeps engineers wanted a very special, focused sound that would suit rock, pop and R & B vocals, yet it also needed to sound great on acoustic instruments too. After extensive listening tests they settled on a design that has transparency like no other microphone. A vocal recording that is real, and captures the essence of the singer, not the microphone.
One of the most desired characteristics for a microphone is transparency. If you record a vocalist and it doesn't sound like that singer, it can sound false and artificial. If you want to add character, there are plenty of other tube style mics on the market but if you want to record the singer without any artificial extras then the V4U is ideal. You can always add more character later with compression and EQ if you so desire.
What was important for Schoeps was to capture the sonic performance and character of the singer without any artificial character from the microphone itself. The result is a recording that is true and faithful to the singer.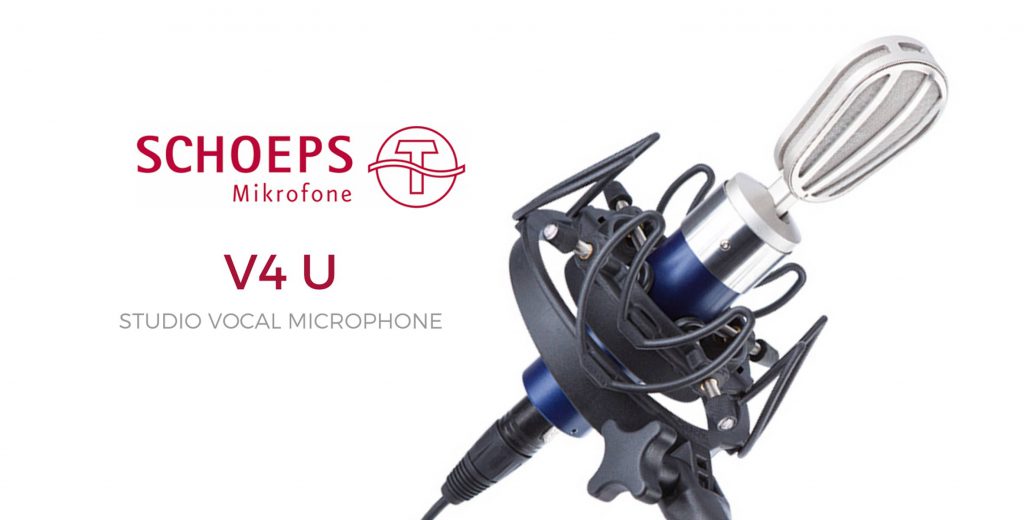 There are many microphones on the market that espouse a clear transparent tone, some cheap, some expensive, but if you want a microphone that faithfully captures a vocal performance without brittle sibilance and hard distortion then you should check out the Schoeps V4U. You won't be disappointed.
The Schoeps V4U USM Set comes in a wooden case with the Famous Rycote USM Shock mount.
Specifications:
Pickup pattern Cardioid
Frequency range         50 Hz – 22 kHz
Sensitivity       -36 dB (V/Pa), 16 mV/Pa
Equivalent noise level (A-weighted)   15 dB
Equivalent noise level (CCIR)  25 dB
Signal-to-noise ratio (A-weighted)     79 dB
Maximum sound pressure level (THD < 0.5 %) 144 dB-SPL
Maximum output voltage 4.8 V (13 dBV) with 1 kΩ load
Low cut filter   40 Hz, 18 dB/oct.
Minimum recommended load impedance     1 kΩ
Output impedance     50 Ω
Maximum cable length           > 300 m
SCHOEPS RFI Shield    Yes
Powering standard / Valid range        P 48 / >43 V
Current consumption 3.3 mA
Common mode rejection ratio (at 1 kHz)       > 80 dB
Output XLR-3M, analog, 1 channel
Length 194 mm
Diameter 34 mm
Width of the capsule head45 mm
Head swivel degree span        +/- 20°
Weight 302 g
CLICK HERE TO BUY THE SCHOEPS V4U IN AUSTRALIA