NEW GUITAR PEDALS FROM WARM AUDIO: FOXY TONE BOX AND JET PHASER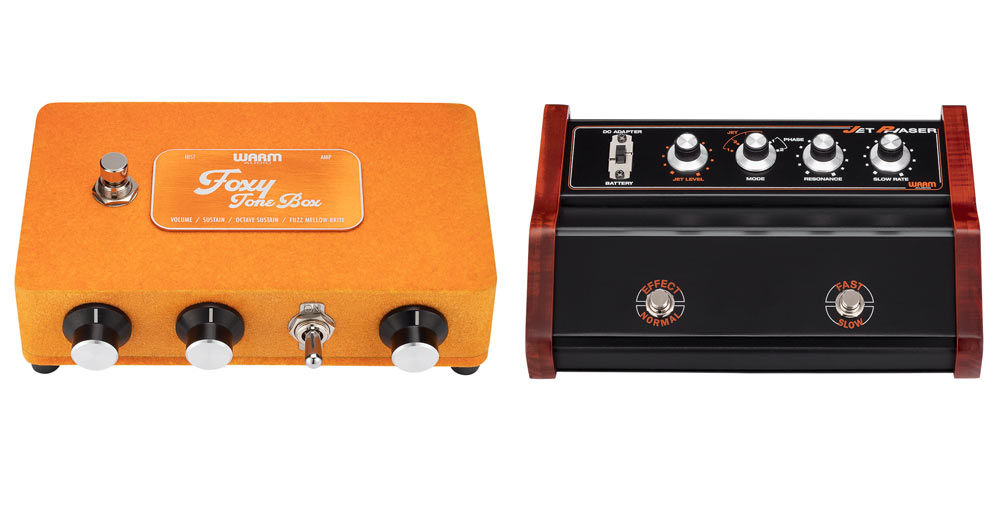 In a world that is seemingly in a constant state of change, Warm Audio has been hard at work creating some new lines to add to their ever-growing arsenal of pro audio recording gear, however Pro Audio is not what is on offer here – it is guitar pedals. These two new additions are not just any guitar pedals. Both the Foxy Tone Box and Jet Phaser are faithful recreations of classic vintage pedals using hand-selected NOS parts.
THE RETURN OF A LEGEND: INTRODUCING THE FOXY TONE  // BOX RRP $265 AUD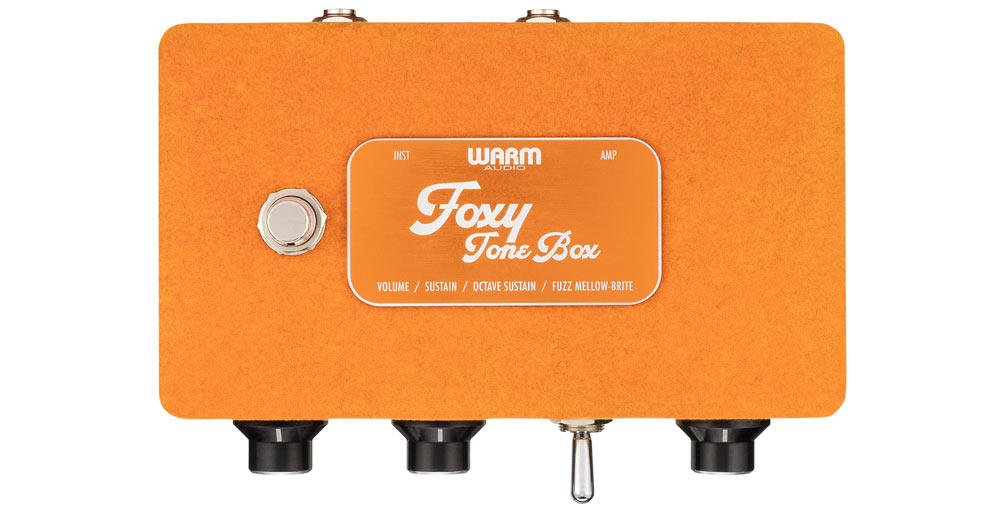 The new Foxy Tone Box from Warm Audio is a hyper-accurate recreation of one of the most sought-after and beloved fuzz pedals of all time – used in the early seventies by legendary tone masters Billy Gibbons and Peter Frampton, and in the present day by folks like Adrian Belew, Nine Inch Nails and Beck. Covered in thick velvet just like the vintage pedal, the Warm Audio Foxy Tone Box faithfully recreates the vintage circuit and brings you the huge tone, octave-up sounds, and look of the original…without having to pay crazy vintage prices!
SERIOUS ATTENTION TO DETAIL
The specific components used in a pedal circuit are critical to the way that it sounds and reacts to your playing, so each Foxy Tone Box is assembled by hand using premium parts. We searched far and wide for a stash of the correct NOS ("New Old Stock") Fairchild germanium transistors used in the original—and then paired them with germanium diodes, high-watt carbon resistors, and film capacitors to bring the fury of the vintage pedal to the present day. It's true bypass, and it sounds like nothing else on earth!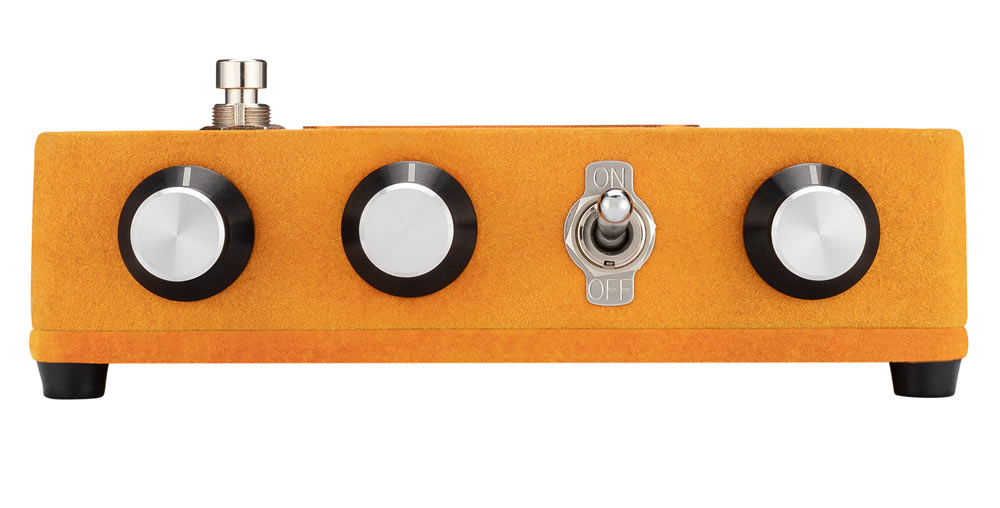 SPECIFICATIONS
Faithful recreation of the original "foxy" fuzz circuit with 100% analog, fully discrete signal path
Premium components used throughout, including the NOS 2N3565 germanium Fairchild transistors found in the original circuit
Uses carbon resistors, germanium 1N34A diodes, and premium film capacitors
True bypass operation
Gold-plated PCB pads
VOLUME, SUSTAIN, and FUZZ knobs
OCTAVE SUSTAIN switch for engaging the octave-up effect
1/4″ Input (INST) and Output (AMP) jacks
Blue LED power indicator
Groovy vintage enclosure covered in orange velvet
Powered by 9V battery or standard 9V DC pedal adapter (2.1mm, center negative DC adapter included)
Power consumption: 1.5mA
Width: 6.5″
Depth: 3.75″
Height: 1.5″
Weight: 1.4 lbs
REBIRTH OF A CLASSIC: INTRODUCING THE JET PHASER // RRP $345 AUD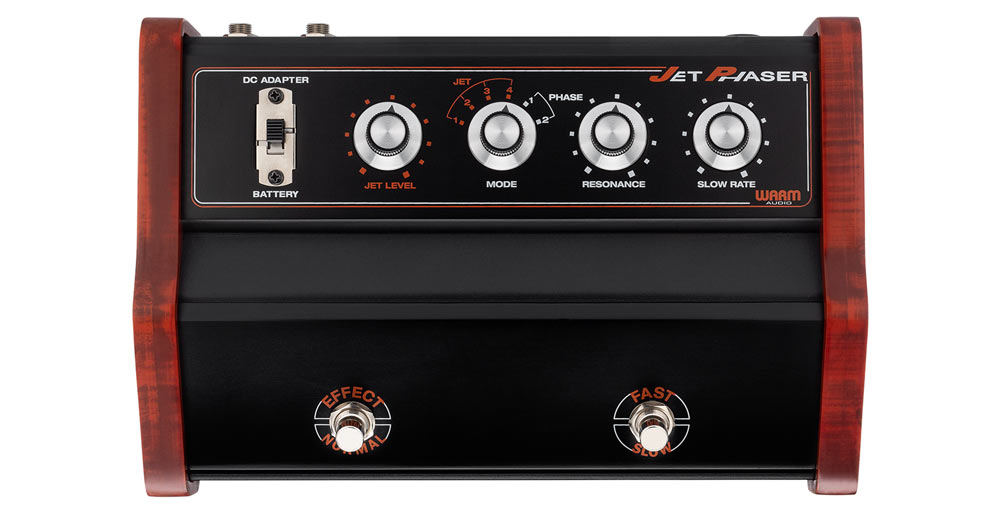 The seventies were an amazing time, as bell-bottoms, chains and afros dominated the fashion scene and the swoosh and swirl of phaser effects were everywhere on the radio. From the guitar work of David Gilmour, Brian May and Eddie Van Halen to the trail-blazing keyboard stylings of Steely Dan, Herbie Hancock and Paul Simon's Richard Tee, it seemed like everyone was incorporating phasers into their sound.
Of all of the designs available during that time period, one phaser pedal stood apart from the others due to its flexibility, sound quality and addition of fuzz sounds, and it was immediately adopted by funk bass pioneer Larry Graham as the core of his modulated sound with both Sly and The Family Stone and his own Graham Central Station.
The Warm Audio Jet Phaser is a hyper-authentic recreation of this famous pedal, accurate from the gooey swirl of the audio circuit to the look and feel of the enclosure, except that it's true bypass and far more affordable and reliable than vintage units!
SPECIFICATIONS
Faithful recreation of the original "jet" phase circuit
Uses premium components throughout, including carbon film resistors and film capacitors
True bypass operation
Six modes: JET (1–4), PHASE (1–2)
EFFECT/NORMAL and FAST/SLOW foot switches
JET LEVEL, MODE, RESONANCE, and SLOW RATE knobs
Gradual rate change when FAST/SLOW switch is pressed, simulating a rotary cab
1/4″ Input and Output jacks
DC ADAPTER/BATTERY switch
Rugged steel chassis with attractive wooden side panels
Powered by two 9V batteries or 18V DC adapter (included)
Power consumption: 9mA
Width: 10.25″
Depth: 6.5″
Height: 2.25″
Weight: 4.6 lbs
CLICK HERE FOR WHERE TO BUY WARM AUDIO IN AUSTRALIA