POINT SOURCE AUDIO IN AUSTRALIA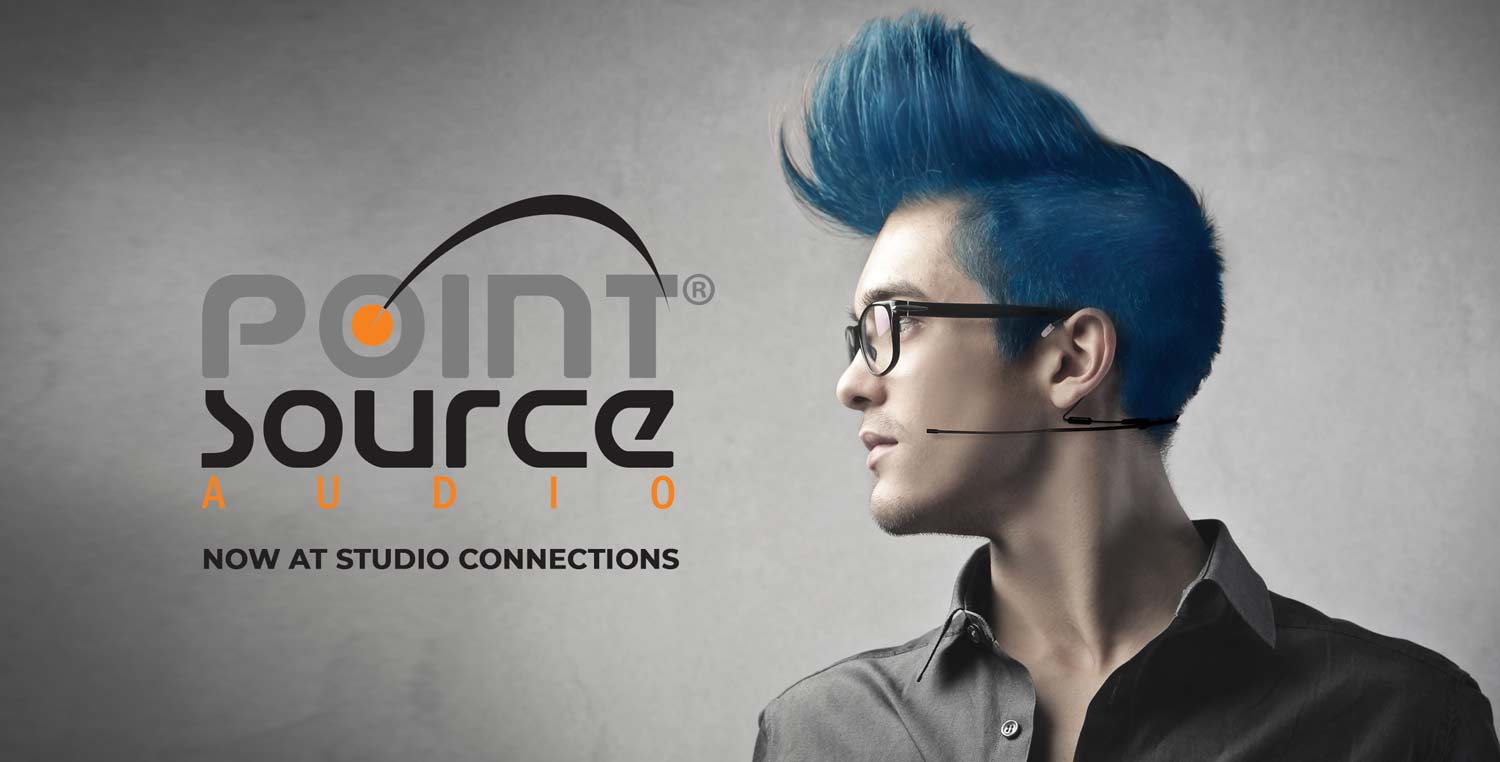 Studio Connections Australia is proud to announce our appointment as the Australian distributor for Point Source Audio. Point Source Audio (PSA) is a solution-based design, engineering, and manufacturing company within the audio industry focusing on performance-based, unique, high quality, headsets and microphones for Stage, Broadcast, Worship and TV. With over 60 years of combined professional audio industry experience, the PSA product designers approach every product detail with a depth of understanding that results in ease, convenience, and efficiency in design.
About Point Source Audio
Point Source Audio manufactures and distributes worldwide their SERIES8, EMBRACE, ENDURE and CONFIDENCE collection of miniature microphones—a unique line of headset, earworn and earmounted microphones known for their robust bendable boom and waterproof features. The company holds two patents for the EMBRACE concealable microphone as well as the patent for the world's first modular in-ear comms headset which supports the hearing health of audio, lighting and camera techs using headsets everywhere from sports to space.
Microphones
SERIES8 – Classic But Not Common
The SERIES8 microphones may have a classic look however they deliver a feature set rarely found in miniature microphones. These miniature microphones come in traditional mic styles – headset, lavalier, or earset —  3 or 4mm in diameter, makeup, sweat and water proof, with interchangeable X-Connectors (more on this later). Like all microphones in the PSA range, the SERIES8 come in three colours Black, Brown and Beige. If you desire that traditional miniature microphone system but with some serious flexibility then the SERIES8 is for you.
EMBRACE – Comfortable, Self Fitting & Discreet

The Embrace microphone series is where PSA takes a detour from the traditional using a customizable mount that will conform to your own ear shape. The concept behind the Embrace microphone is to provide a microphone that is discreet, secure, self-fitting and comfortable for the user. The result is a truly unique microphone that is almost undetectable on stage or while presenting TV content. Embrace is essentially a plastic mould that you can trim and shape to suit your own ear. It is fitted with an OMNI directional condenser miniature microphone. Once cut and shaped the microphone will always remain in the same position every time you put it on. This is great for presenters who don't have a tech to fit the system – they can fit the system themselves whilst being assured of the consistency of sound. The Embrace Microphone comes in 3 colours; black, brown and beige. It also comes as a dual redundancy system that provides a secondary microphone in case one fails. It is makeup, sweat and water proof and extremely secure which makes this microphone perfect for stage performers, theatre and dancers. The PSA Embrace is a truly unique system that sets itself apart from all other miniature microphones on the market.
ENDURE – Tested to 120,000 bends without breaking
Nothing even comes close to the effortless endurance of the PSA ENDURE microphone collection. The Endure collection features a proprietary Lemo-style connector with accelerated life testing to 12,000 bends on all mics in the collection. Every ENDURE microphone bears a tighter tolerance of less than ±2dB, besting the industry standard. A smaller difference from mic to mic means you can count on our mics matching closer—setting us even further apart from the competition. Along with the Lavelier and Dual Lavelier microphones in this collection, PSA offers the Moldable microphone that allows you to mold the microphone into any shape you desire, and with 1200 bends at your fingertips, you'll be assured this mic will always hold its shape.
AUDIO HEADSETS – Use your own IN-EAR Monitor Pods
PSA offers the world's first and currently only Switchable In-Ear Headsets for intercom, camera operators and presenters. What this means is that the PSA Headsets come with Detachable Ear Pods enabling you to use your own fully customised earpieces. The connection is universal so will work with all the top In-Ear monitor pods. Using Ear Pods make these headsets extremely light and comfortable for many hours of use. 
X-CONNECTOR – Durable flexible Connector 

The PSA X-CONNECTOR is a unique system that allows you to connect any PSA microphone to a variety of bodypacks that have their own signature connection. Most miniature microphone companies offer these as adaptors however PSA's X-Connector is slightly different. Firstly, the X-Connector is not a rigid adaptor, but rather, a short fixed cable that is durable and bendable. This means is that it works like a true extension of the microphone cable without a bulky adaptor that is prone to break. Secondly, the X-Connector binds to all PSA microphones with a set of locking plastic teeth so that cables don't accidentally come apart.
The X-Connector, Dual Redundancy, Waterproof and Embrace system are all great features but are secondary to the performance of the microphones. PSA microphones sound great and are at the top of the game when it comes to sonic performance.
Their microphones have been tried and tested in a range of high-end theatre productions that include the highly acrobatic Cirque du Soleil, Singing In the Rain, Chicago the Musical, the King And I and Hamilton just to name a few and all with glowing reviews from sound techs and audio operators worldwide.
For more detailed information on Point Source Audio check out their website – https://www.point-sourceaudio.com/