EVO8 SHIPPING NOW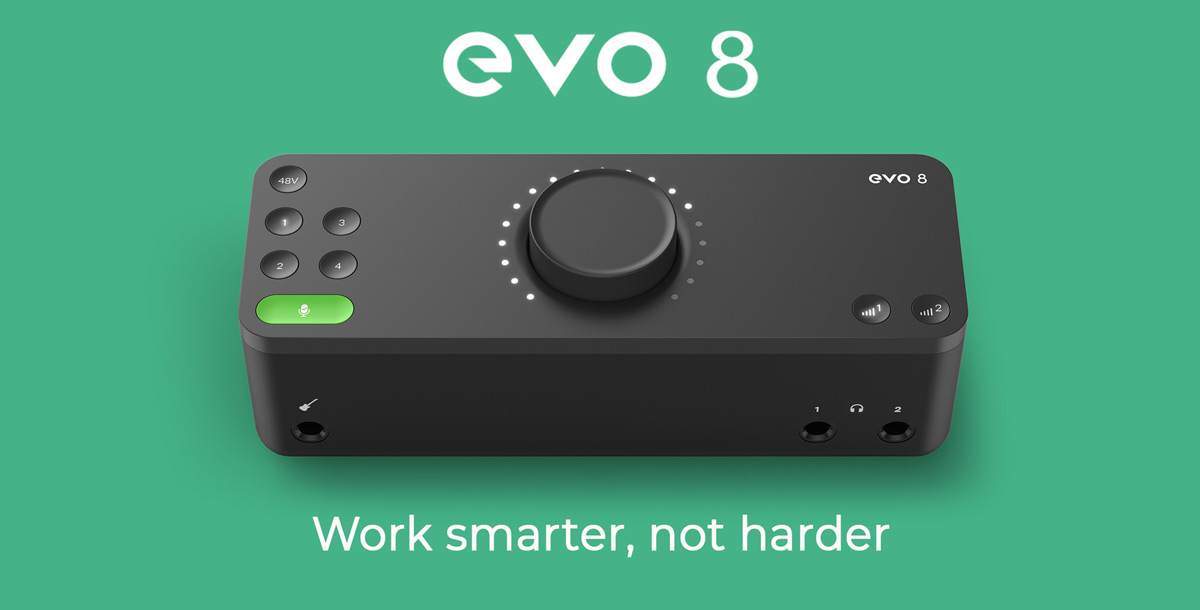 CLICK HERE for where to by the EVO 8 In Australia!
A little under a year ago Audient announced the birth of their sister brand EVO. The first release by EVO was the EVO 4 two in two out audio interface which has over the year gone on to become one of the most sort after small audio interfaces on the market with demand outstripping supply. At the time of announcement Audient also revealed there will be a big brother to the EVO 4 called the EVO 8. Many eager customers have been waiting patiently for this 4 in 4 out Smart Gain Audio interface the land. Well, wait no further. The EVO 8 by Audient is here.
WHAT'S THE DIFFERENCE BETWEEN THE EVO 4 AND THE EVO 8?
EVO 8 has all of the innovative, new features found on the EVO 4 like Smart Gain, Loop-Back and Smart Touch but provides additional inputs, extra outputs and dual headphone sends – all of this off bus power using USB C to USB C.
The very first reason you'd buy the EVO 8 over the EVO 4 is that it has 4 dedicated Microphone Preamps enabling you to record 4 instruments onto individual tracks at the same time. You can also Pod Cast up to 4 people with separate mics at the same time. EVO 8 also has 4 independent audio outputs – these can be used to feed two sets of studio monitors with independent volume control for each. Further to this the EVO 8 has two dedicated headphone outputs. This is invaluable if your singer wants a different headphone volume to you.
SOME EVO 8 FEATURES
Features

● 4 x EVO Mic Pres
● Class-Leading AKM Converters
● Smartgain
● Smart Touchpoints
● JFET Instrument Input
● 2 x Stereo Speaker Outputs
● 2 x Headphone Outputs
● Low Latency Software Mixer
● Audio Loop-back Functionality
● USB Bus Powered
● Free Software + Plugins
THE DETAILS
Capture creativity fast
Whether recording your latest track, producing a beat, or creating a podcast EVO 8's advanced and versatile feature set lets you take control of any recording session.
Unrivalled audio performance
Building on Audient's 20+ years of audio design experience, EVO 8 gives you unrivalled audio quality on your desktop.
4 x EVO Preamps
Get the most from your microphones with the warm and accurate EVO preamps – offering 58dB of gain range.
High-Performance Converters
Hear your recordings more accurately than ever and make better mix decisions with 113dB of dynamic range.
Instrument Input
Plug your guitar or bass straight in through the JFET instrument input and start recording instantly.
Smartgain Mode
Work smarter not harder –
Make sure you capture everything perfectly with Smartgain mode. Start playing or singing and Smartgain mode will automatically set the level of your inputs. You can even perfectly
match and adjust gain to all channels simultaneously.
Powerful Control
Smart touchpoints
Control your speakers, headphones and channels all using the volume encoder.
Switchable +48v
Individually switch phantom power on/off for each channel and give your microphones the power they need.
*Four channels simultaneously requires a USB-C to C connection. USB-A to C will provide up to two channels.
Multi-function buttons
Channels 1-4 and both volume buttons can quickly be muted by simply holding them down until they begin to flash.
Software Control
Set the gain of your mic pres using your DAW, your settings will also be stored in your session.
*with compatible software
SmartMuting
Connecting a set of headphones to either of the headphone ports will automatically mute the corresponding speaker outputs, making switching between loudspeaker monitoring and headphone monitoring quick and seamless.