Forbes Street Studios Goes Immersive with Genelec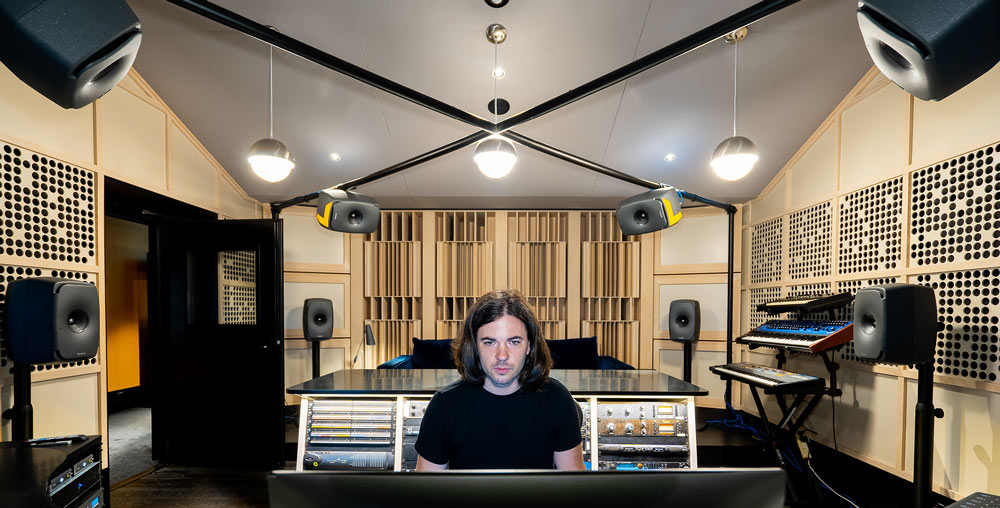 Client: Forbes Street Studio (Universal Music)
Supplier: Sounds Easy
Consultant: Studio Connections Australia
Project: Genelec Fully Immersive Dolby Atmos Mix Room
Configuration: 9.1.4 monitoring
Speakers Installed: 13 x Genelec 8351B speakers 1 x Genelec 7382A subwoofer
Dolby Atmos, Immersive Audio…what does it all mean?
Dolby Atmos or Immersive Audio as it is sometimes known is a surround sound technology developed by Dolby Laboratories. It expands the capability of a traditional surround system by adding ceiling mounted speakers/height channels. This allows the listener to experience a truly three-dimensional fully immersive soundscape.
Since Apple Music announced the addition of spatial audio with support for Dolby Atmos in May 2021, we have seen an increase in studios adopting this technology. Forbes Street Studio in Sydney's Woolloomooloo is the latest to embrace this new technology by installing a purpose built, Genelec driven, Dolby Atmos monitoring system in their main mix room. We catch up with Studio Manager Anthony Garvin to see how it all came about.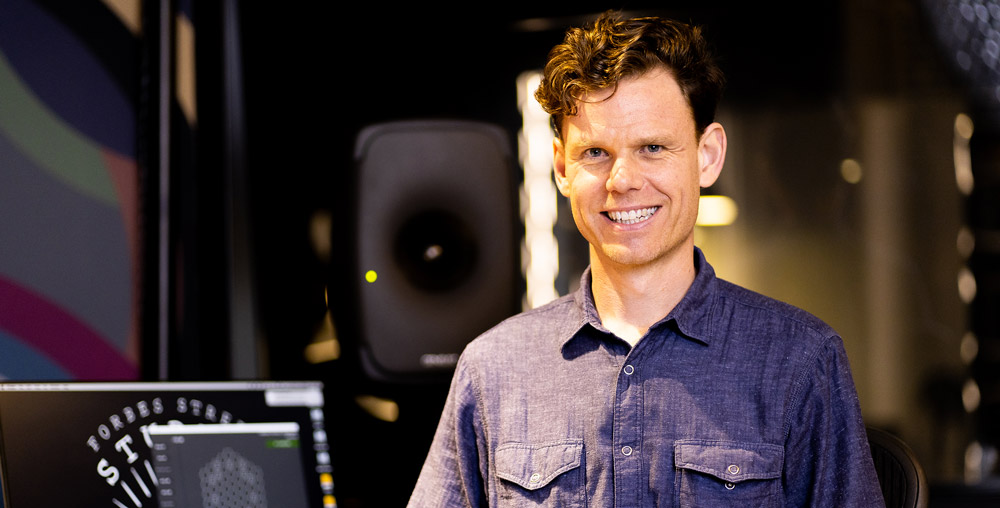 Hi Anthony, can you tell us about the room, was it an existing space or did you have to build it from the ground up.
 We've setup this new mixing system in our main studio which was built in 2016. We haven't had to do any modifications to the acoustics in the space, but we worked closely with Dolby on the speaker specs, and then Michael Fronzek at Sound Spaces Pty Ltd, to find the best position for the speakers. We've also had a custom truss built for the overhead speakers which gives us the flexibility of being able to move them further in and out from the listening position. This allows us to experiment until we're happy, and possibly add more 8351Bs in the future. 
What prompted the project?
Well, experiencing music in Dolby Atmos format, on real speakers, is just an amazing experience! We wanted to be able to work in this format, and to be on the front edge of what is (hopefully) a new era in music production and consumption. We had been watching the Dolby Atmos Music / Spatial mixing space for a few years, taking advice from our colleagues at Capitol and Abbey Road Studios (they had already mixed thousands of songs in Atmos before our partners platforms started supporting the format) As soon as we got word that Apple Music were announcing support for Atmos, we jumped in.
What is your role in the project?
I run Forbes Street Studios and work for Universal Music (who own the studio), so I was tasked with specifying, acquiring and setting up the equipment, and then helping to train our engineers on Atmos mixing.
Did you have any specific requirements for the monitor system?
Yes! We wanted a brand of speaker that the bulk of our team knew and loved, sounded great, would work (and fit) in the room nicely, and met Dolby's requirements on SPL output.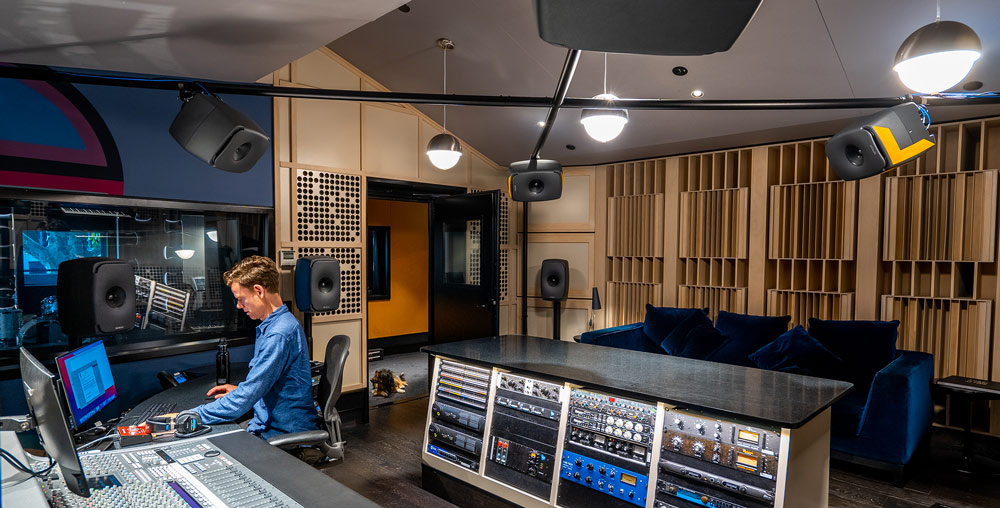 You decided upon Genelec 8351B for all the surrounds and ceiling speakers and the 7382A for the sub duties, how did the Genelec gear meet these requirements?
See above! Haha.. we had heard the 8351s in a stereo config previously and just loved how they sounded. We entertained the idea of 8341s (to go easy on the budget) but found that they couldn't meet the SPL requirements. On that, that's why we ended up with the 7382A as well. It's a beast but fits nicely behind our console and integrates well with the speakers. It's great that Genelec have a range of speakers that all sound similar, but can be 'sized' by choosing the appropriate model for the room they're installed in.
There are many monitor systems on the market so why did you choose Genelec?
Beyond all the above, the AES input and GLM software controls have been invaluable in this setup. It has made cabling MUCH easier, GLM allows for us to switch between "spatial (all digital)" and "Stereo (analogue via the console)" at the push of the button, based on what we're doing that day. Also… Deb and everyone at Studio Connections have always been super helpful and great to work with. That DEFINITELY makes acquiring equipment easier and more enjoyable.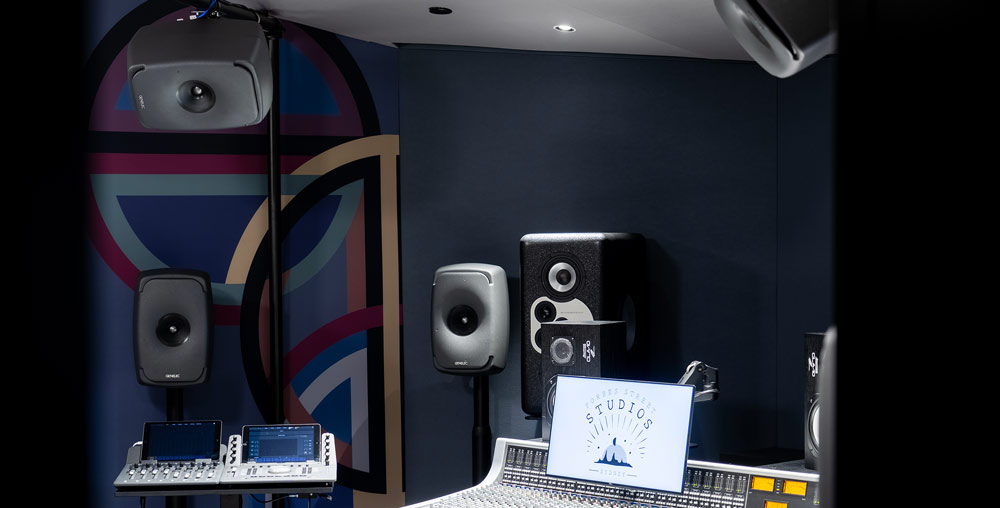 Did you face any challenges and if so, how did you overcome them?
Yes. COVID delaying stock, shipping, etc… but that was across the board for all our gear, and no doubt not unique to us. Mounting the speakers on the ceiling was interesting… Once we had the truss made, we then had to figure out how to mount the speakers at the appropriate angle (we had to modify a triad orbit mount to do that). Fitting the sub and centre speaker, in our particular room, was also a challenge – we ended up having a Genelec 8000-400 stand modified by height, so it matches all our other stands aesthetically, but sits nicely on top of the sub. Most of all though, the challenge has been learning and understanding what is, at the moment, quite a technical and detailed system – mixing in Atmos at a pro level probably requires the same level of technical knowledge (and investment) that is (was?) required to run multi track tape machines.
How important was GLM in the process?
It was useful. Before we had Dolby calibrate the room [they used the AVID MTRX SPQ card to do this], we were able to get a 'ballpark' curve / time / level adjustment so we could start experimenting and working in the space very quickly, and with confidence. As mentioned above, it's also very useful for switching between analogue / digital configs at the press of a button.
How happy are you with the end results?
ABSOLUTLEY OVER THE MOON. The speakers sound fantastic, listening to mixes in the space is all-enveloping and takes experiencing music to a whole new level. I am also very happy that we chose identical speakers all around the space (rather than using smaller models for side/rear /ceiling) as it means we can experiment freely in the space and not have to second-guess the changes due to different speakers around the room.
How will the space be used?
In this configuration, we will be mixing music for Spatial formats (i.e Dolby Atmos) that will ultimately be heard on Apple Music, TIDAL and Amazon Music. The studio is open to the public, plus available for dry hire… so we can do an Atmos mix utilising our team or rent it out for other engineers and producers to do mixes. We have also started mixing local Universal catalogue specifically for Dolby Atmos.
Is Universal Music happy with the system?
Yes! Everyone loves it… the combo of the 8351s with our room is just magical, did I mention that listening to music in there is just pure joy?! Not to mention that there was only minimal calibration required to meet Dolby's standards 
Forbes Street Studios has hosted local and international acts including Billie Eilish, Ocean Alley, Elton John, Keith Urban, Tove Lo, Flume, Shawn Mendes, Dean Lewis, G-Flip, and Briggs. In addition to servicing Universal Music artists, it is open to the public. If you would like to book Forbes Street Studios or have any questions you can contact Anthony here:
Contact Forbes Street Studios
general@forbesstreetstudios.com
+61-(0)2 9207 0686
Website: https://www.forbesstreetstudios.com/
Cnr Forbes & William St
Woolloomooloo
NSW Australia 2011