So what sets the EVO 16 apart from all the other 8 in 8 out audio interfaces on the market?
Much like the EVO 4 and 8 models, the EVO 16 offers smart gain which sets gain automatically however, "The added bonus with EVO 16, is that it can automatically set the gain for all 8 channels at once, ideal for drummers who have multiple mic inputs and synth players needing lots of line inputs," explains Andy Allen (Audient Marketing Director). "Smartgain has been designed to take the guesswork out of setting gain. Not only does it save time for the user, but it eliminates the hassle for those working on their own, which means users can spend less time figuring out the tech and more time recording."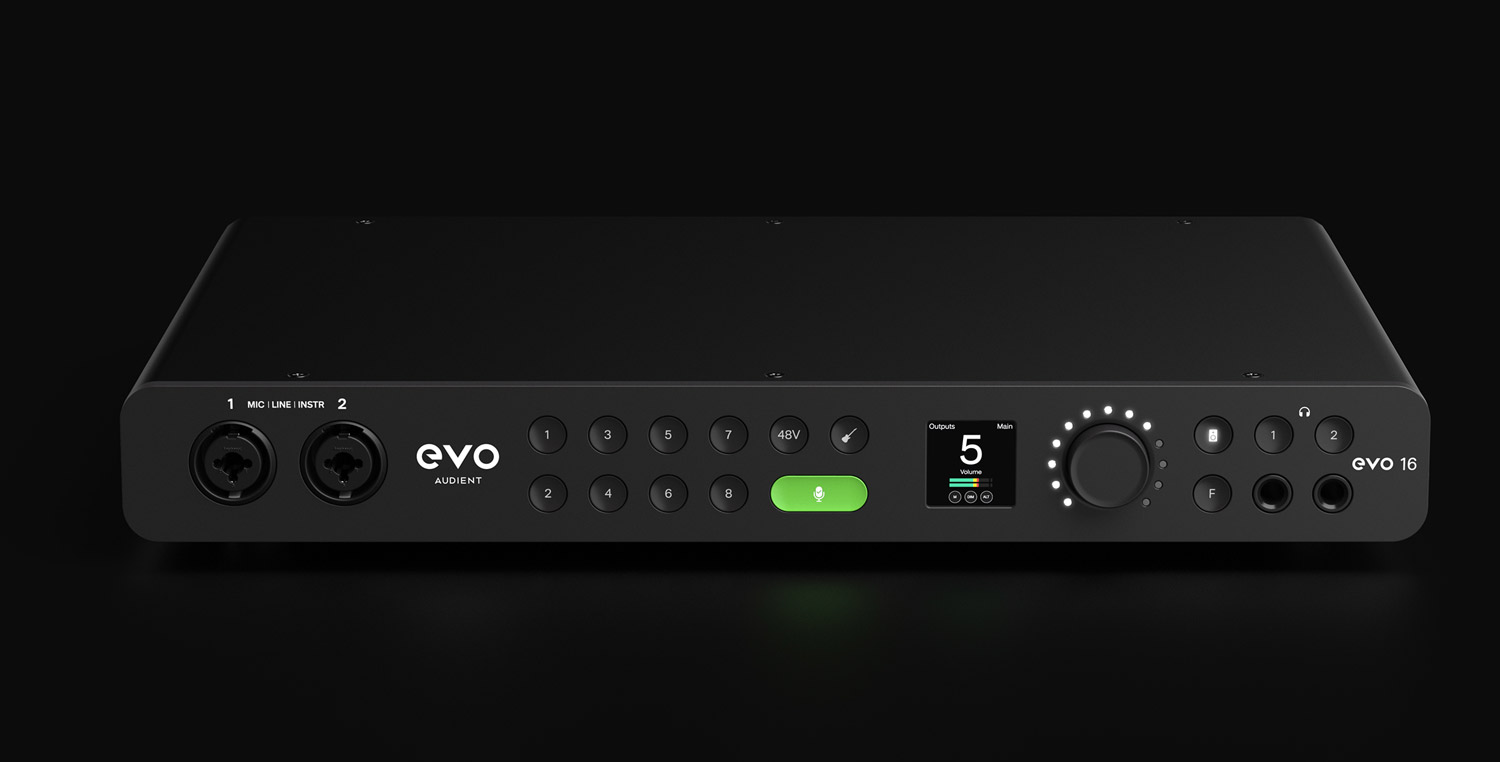 Further to this the EVO 16 breaks convention with its high resolution, full colour screen built into the unit. "With our all-new Motion UI (user interface) control system, we've found a new way of doing things," explains Andy. "Motion UI uses the wide angle screen to intelligently display information on your session as and when you need it, making any interaction with EVO 16 a fully immersive, easy-to-use experience – more comparable to what you might expect when using a Smart device, with no menu deep diving required to activate features. Simply select a front panel feature, Mic 1 for example and the screen will show all the relevant info for that channel.
You also get a whopping 121 db of dynamic range, 2 headphone outputs, 2 adat optical inputs and 2 adat optical outputs, 2 jFET guitar inputs, word clock and monitor control.

EVO 16 Features:
●  8 x EVO Mic Preamps with Smartgain
●  2 x JFET Instrument Inputs
●  2 x Independent Headphone Outputs
●  8 x Line Outputs
●  2 x Optical Inputs
●  2 x Optical Outputs
●  Multi-Channel Smartgain
●  'EVO Motion UI' Control System
○  High-Res LCD Screen
○  One Knob Centralised Control
○  Ultra Clear Metering
○  Input/Output Control
○  Channel Status Indication
●  Programmable Function Button
●  Ultra-Low Latency Software Mixer
●  Monitor Control
●  Audio Loop-back
●  Word Clock Output
●  USB2.0 (USB-C Connection)
●  24bit / 96kHz
CLICK HERE for a full list of our Australian Authorised EVO dealers