Drawmer Introduces the 1972 Dual Channel Preamp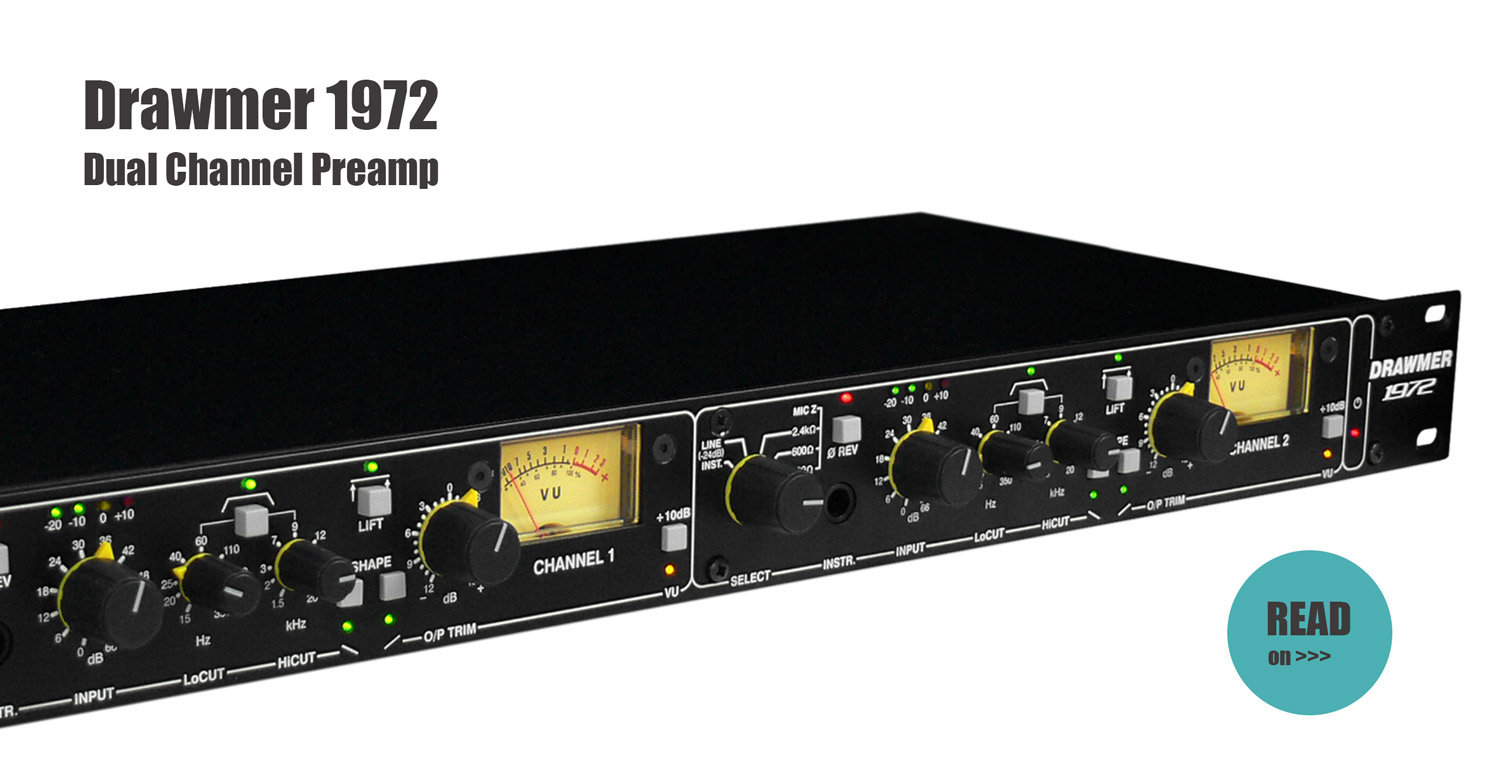 Drawmer Electronics Ltd is a company that has been building high quality studio gear since 1981 and has been used on countless recordings over the subsequent years. To their credit Drawmer, founded by Ivor Drawmer, has always been designed and built in Yorkshire UK and continue to do so, while many others have moved their manufacturing to China. The most recent additions to the Drawmer range has been the 1970's series consisting of Compressors, EQ and Saturation units. The latest addition being the 1972 Dual Channel Preamp. The 1972 is no ordinary preamp though. Whether you're feeding it dynamic mics like the famous Shure SM7B, tube condensers or ribbon mics there's ample gain. Adding to this the Tilt and Shape circuits can add a degree of colour and power to your signal.
Given the unprecedented reputation of delivering creative, problem-solving, and bulletproof products to the studio/ live recording arena, Drawmer is introducing the all new 1972 Dual Mic/Line and Instrument Mic Preamplifier. The unit distinguishes itself with its flexibility, unique feature set and simple operation and is at home in both professional studio and live sound applications. As with all Drawmer products, the 1972 is hand-crafted in the UK with all steel chassis for bullet-proof reliability.
The Drawmer 1972 Dual Mic/Line and Instrument Mic Preamplifier sports two identical channels of analogue pre-amplification in a 1U rack chassis. Key to the 1972's versatility is the Select input source switch. It has six switch positions to cover the 1/4-inch front panel Instrument input jack for guitars, basses or electronic keyboards and five more positions covering separate rear panel XLR input jacks for microphones with/without 48-volt phantom powering or Line level input sources. Other switch positions are provided to match microphones with 200, 600 or 2,400-ohm impedances. Low impedance passive ribbon microphones sound best when impedance-matched correctly.

Up to 66dB of ultra clean gain in 6dB steps is provided by THAT Corp Technology using a 12-position rotary Gain switch. The switch's detents make it easy to recall settings from previous sessions—perfect for rapid changeovers in live recordings—when there is no time to reset record levels. Input levels are monitored on a simple, five LED colour-coded meter directly above the Input Gain control and a compact Sifam VU meter monitors the final Output level.
Unique to the 1972 is Lift a low-level, upward expander. When switched in, Lift adds gain to input signals below a level of -30dB and continues adding gain until a level of 0dB is reached. Furthermore, starting at -30dB, the amount of added gain is gradually reduced as the average level approaches 0dB.  Lift is the ultimate, smooth automatic gain-riding tool; you will never have "under recorded" audio again with this natural sounding feature. Useful for: studio, TV sound, conferences, and public address system recordings. Off-mic and poor microphone techniques are all helped with Lift.
Another standout feature of 1972 is Shape, basically used as an instant sonic fixer.  It is comprised of two separate fixed-frequency tilt or see saw equalisers both centered at 500Hz. Low Shape will provide up to a 2.5dB boost at 40Hz and, at the same time, attenuates -2.5dB at 10kHz. Conversely, Hi Shape reduces by 2.5dB at 40Hz and, at the same time, boosts up to 2.5dB at 10kHz. With both low and high Shape buttons engaged, a pleasant and very useful "scoop" centered at 500Hz is generated. Great for a harsh and "honky" sounding overall music mix,
Buy the Drawmer 1972 from one of our authorised local Australian dealers HERE