Audient iD24 Audio Interface Announcement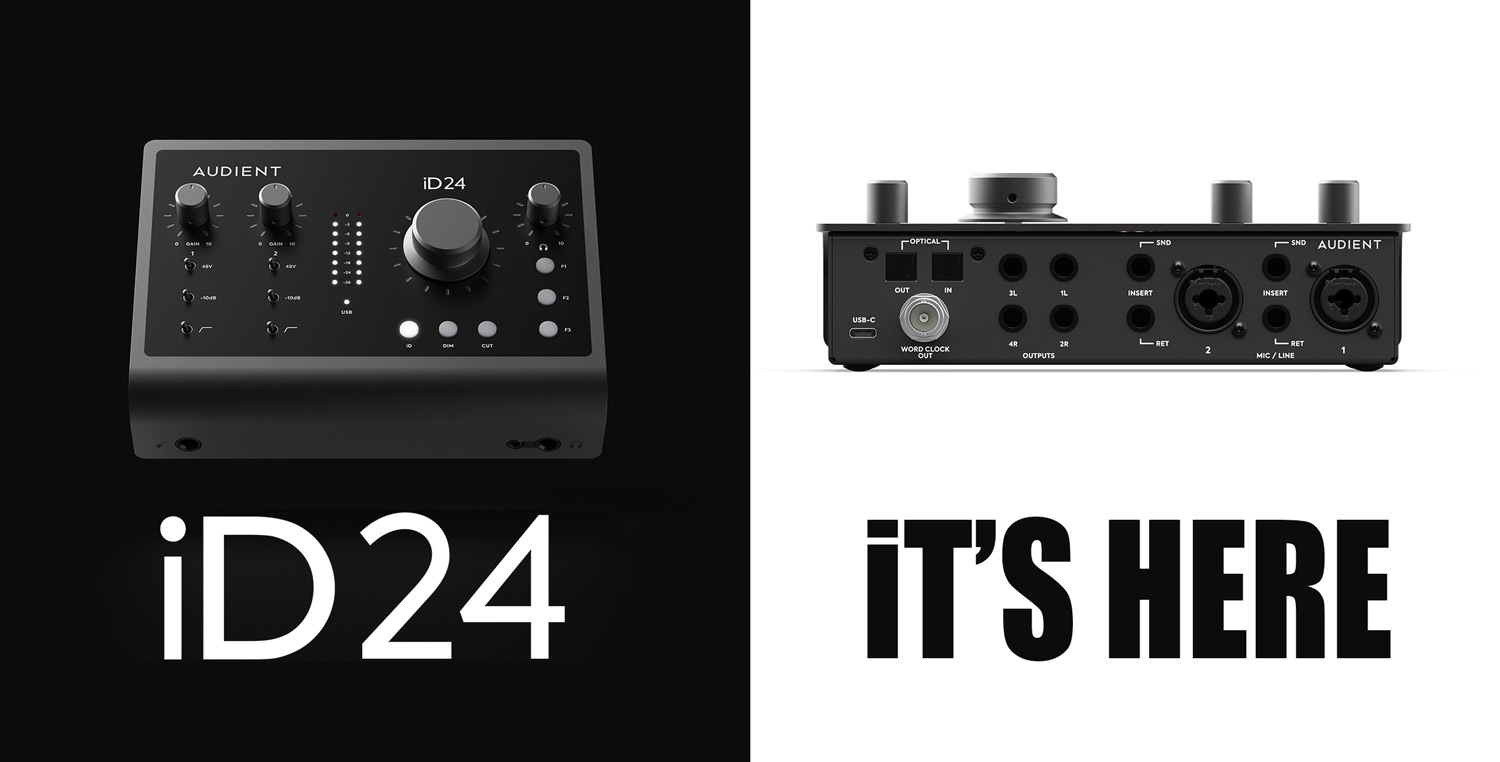 Up until 2013 Audient were known as a highly respected boutique recording console manufacturer, but this all changed when in that year Audient released the iD22 Audio Interface. Since then Audient has solidified themselves as one of the top tier Audio Interface designers on the market and continue to expand their ever popular range.
From its initial announcement the iD22 was a smash hit featuring the same high quality microphone preamps as their famous ASP8024-HE recording console. It quickly became the audio interface for audio engineers and producers wanting to make high level recordings at home. Adding to the famous mic preamps the iD22 offered balanced insert points to connect up a compressor or EQ into the recording chain – genius. The iD22 is so good that the it still sells well today some 10 years on without any upgrades – unheard of for any computer peripheral let alone an audio interface.
Since the release of the legendary iD22 Audient has gone on to release a range of exceptional interfaces from the single channel iD4 up the to 4 channel iD44. While these interfaces offered a range of features customers asked for, the original iD22 owners have been asking for a second iteration of this legendary device.
Enter the new Audient iD24, taking everything the original iD22 offered and adding modern compatibility.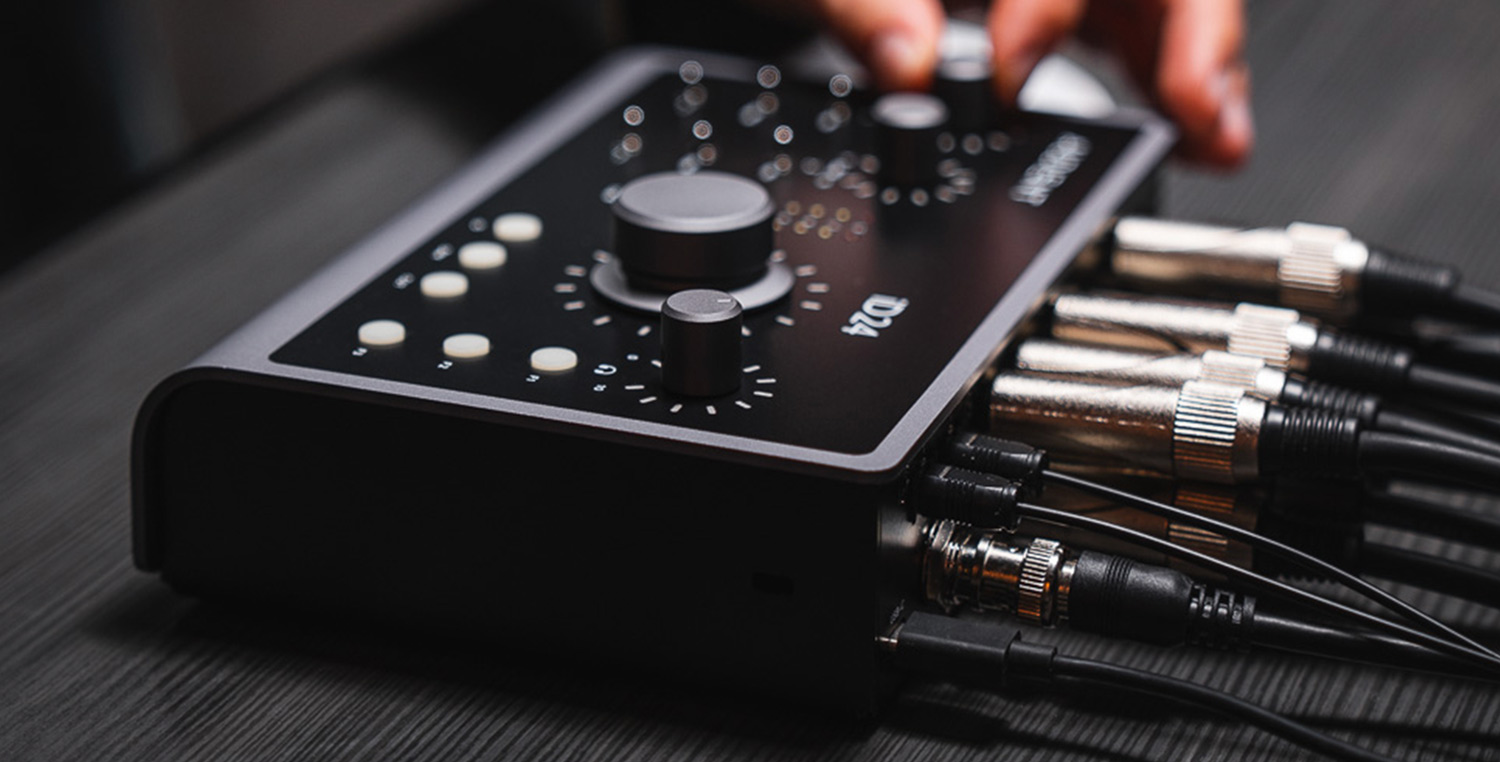 iD24 Features
10in / 14out Audio Interface
2 x Class-A Audient Console Mic Preamps

Class Leading AD/DA Converters

1 x Discrete JFET Instrument Input

Main and Alt Speaker Outputs

1 x Independent Dual Headphone Output

1 x ADAT Input & Output

2 x Fully Balanced Inserts

Ultra-low Latency DSP Mixer

Audio Loop-back

ScrollControl

3 x User Defined Function Keys

Dedicated Dim and Cut Controls

+48V, Pad, and HPF Switches

USB 3.0 Compliant

24bit/96kHz

Word Clock Output

All-Metal Design

Free Software + Plugins
Audient Console Mic Pres
Every iD interface features the Audient Console Mic Preamp, the same discrete circuit design found in our renowned recording console the ASP8024-HE. Designed to deliver ultra- low noise and low distortion with a touch of classic analogue warmth, iD24's two Audient Console mic preamps deliver a clean, accurate and true to source translation of your audio. 
It's all in the details 
Class Leading Converters
Hear every nuance, every aspect of your audio with iD24's class leading converters. With 32-bit DAC converter technology and 126dB of dynamic range, iD24s converters make sure you hear subtle details, identify problematic issues and make better mix decisions. Experience remarkable clarity from the moment you press play.
Expand and Conquer
Digital I/O
Be ready to expand when you need to tackle bigger sessions like recording drums or a live band with iD24's optical input and output connections. Supporting both ADAT and SPDIF, iD24 lets you boost your I/O by adding up to 8 channels of mic preamps to your setup.
Hardware Integration
Balanced Inserts
Integrate your favourite outboard FX prior to conversion and start creating signal chains that rival the very best. The insert returns also gives you direct access to the A/D converters providing the cleanest signal path possible, making it great for print-backs or integrating outboard line level sources.
Track with hardware FX

Mix with hardware FX

Record external mic preamps

Bypass the built-in mic preamps
Plug and Play
JFET Instrument Input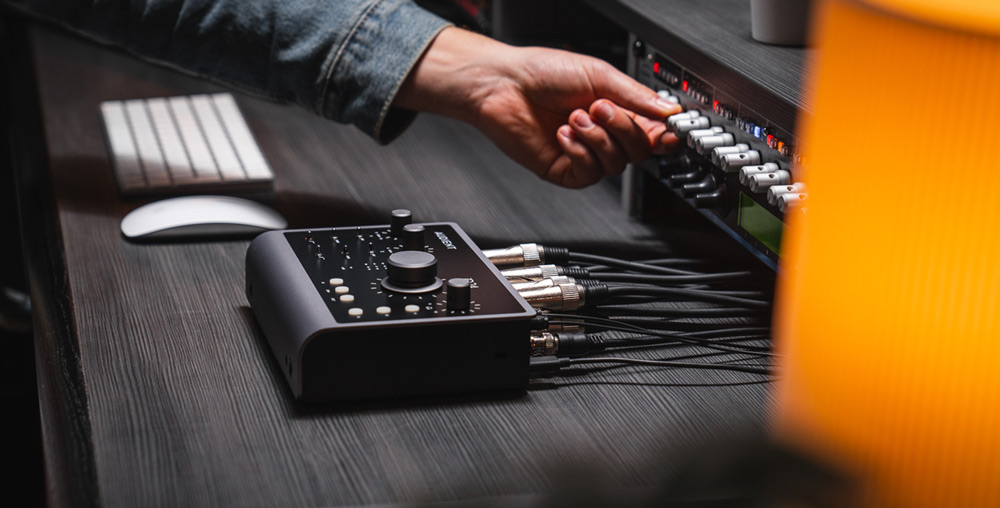 Designed to replicate the input stage of a classic valve amplifier, iD24's harmonically rich JFET Instrument Input gives you the perfect sonic foundation for your guitars or basses before you hit your amp sims.
Set up in seconds
USB Bus Powered
iD24 is fully bus powered via USB, meaning there is no need for an external power supply. Just pro features in a portable desktop package with zero compromise on sound quality or performance.
Advanced Monitoring
Speaker Outputs
Connect and listen to your mixes through two sets of speakers with iD24's four line outputs. Alternatively use the extra line outputs to send audio to an external headphone amp for distribution to your artists. 
Headphone Outputs
Confidently reference check your mixes on headphones with iD24's independent stereo headphone amp, providing enough power to support headphones up to 600Ohms. And with both a ¼" jack and a mini-jack, iD24 allows you to plug in two sets of headphones at once ensuring you and your artist can work together seamlessly.
Go configure
User Defined Monitor Control
Speed up your workflow with iD24's three programmable function buttons. Assign any of the advanced monitoring features, including Speaker Select, Talkback, Polarity Invert or Mono Sum, to any of the F-buttons and quickly take control of your session. 
Quickly Alternate Speakers

Reference your mix in mono

Clear and easy artist communication
Experience ultra low latency
Software Mixer
The iD Software Mixer tightly integrates hardware and software, letting you effortlessly set up low latency direct monitoring, create up to two stereo artist cue mixes, name and customise channels, save layout presets, assign hardware function buttons and quickly setup advanced routing – all from one easy to use app.
Innovation meets communication
Talkback
iD24's dedicated talkback technology enables you to use any audio source connected to your computer such as a built-in or USB microphone as your talkback mic, freeing up valuable mic preamps for recording. 
The virtual scroll wheel
ScrollControl
Turn iD24's volume knob into a virtual scroll wheel and take control of a variety of compatible onscreen parameters. Quickly dial in settings, adjust faders or even write in automation without spending hours staring at the screen.
Audio Loop-back
Creativity unleashed
Now equipped with Audio Loop-back, iD24 can quickly transform into a multi purpose powerhouse. Giving you the ability to capture playback from multiple applications on your computer at the same time as your microphones, Audio Loop-back lets you create a custom audio feed ready to send to your streaming software. Ideal for content creators, podcasters and streamers.
Record your computer's audio

Send audio to live streams

Collaborate on mixes online

Record gaming audio
iD24's loop-back feature is controlled via the software mixer, enabling you to select the Loop-back source from 6 different options to suit a variety of practical scenarios. Endless possibilities, speedy workflow.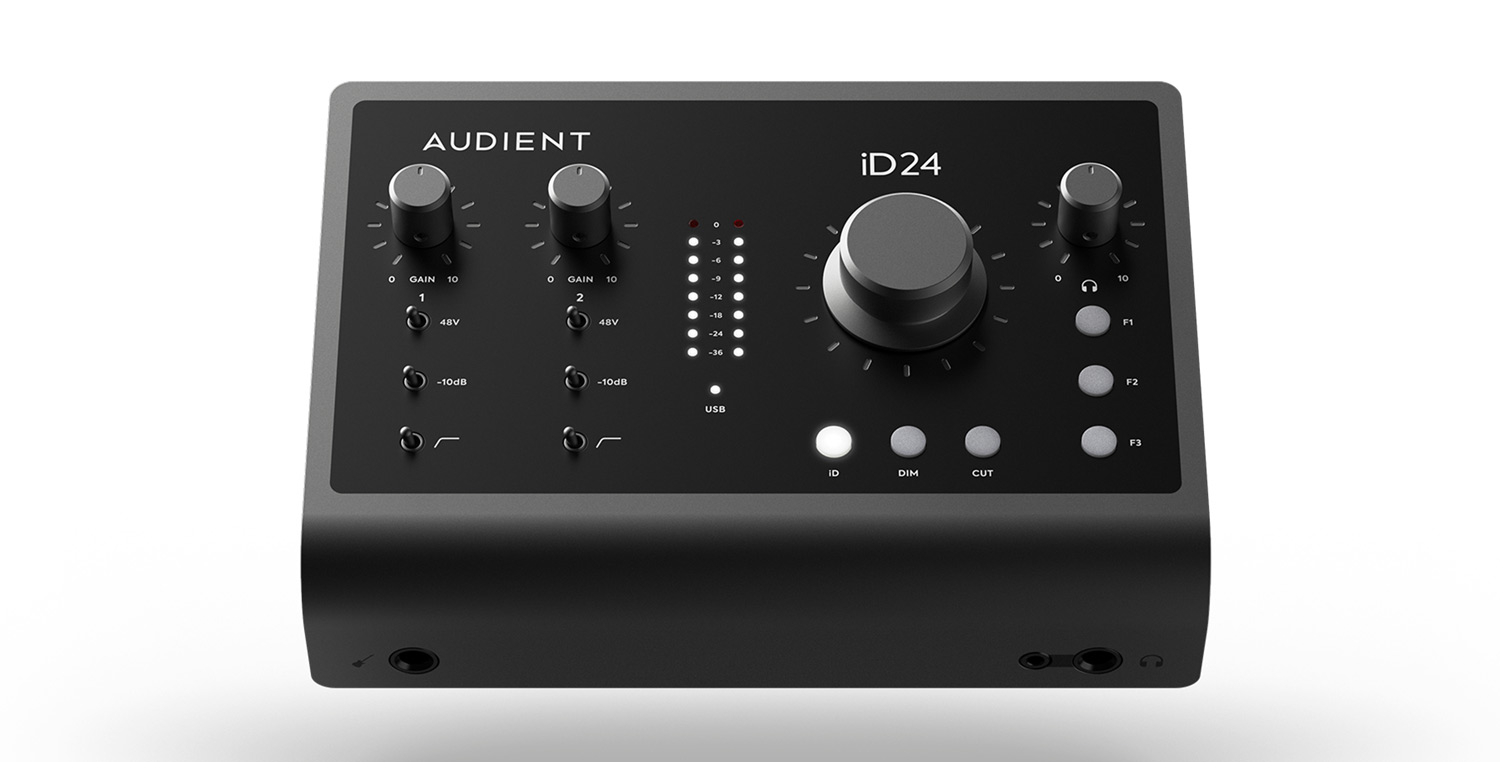 Built to Last
All metal construction
An all metal, smoke grey chassis alongside hand-milled aluminium knobs and high grade component selection means iD24 is designed to survive everyday use, whether at home on your desktop or up against the wear and tear of travel. 
Create instantly
Free Software with ARC
Bundled with a free suite of creative software including Cubase LE, alongside industry leading plugins and virtual instruments, you can start recording as soon as you open the box. 
Buy the new Audient iD24 Audio Interface from one of our Authorised Australian Audient Retailers >>>> HERE