Meris MercuryX Modular Reverb Effects Processor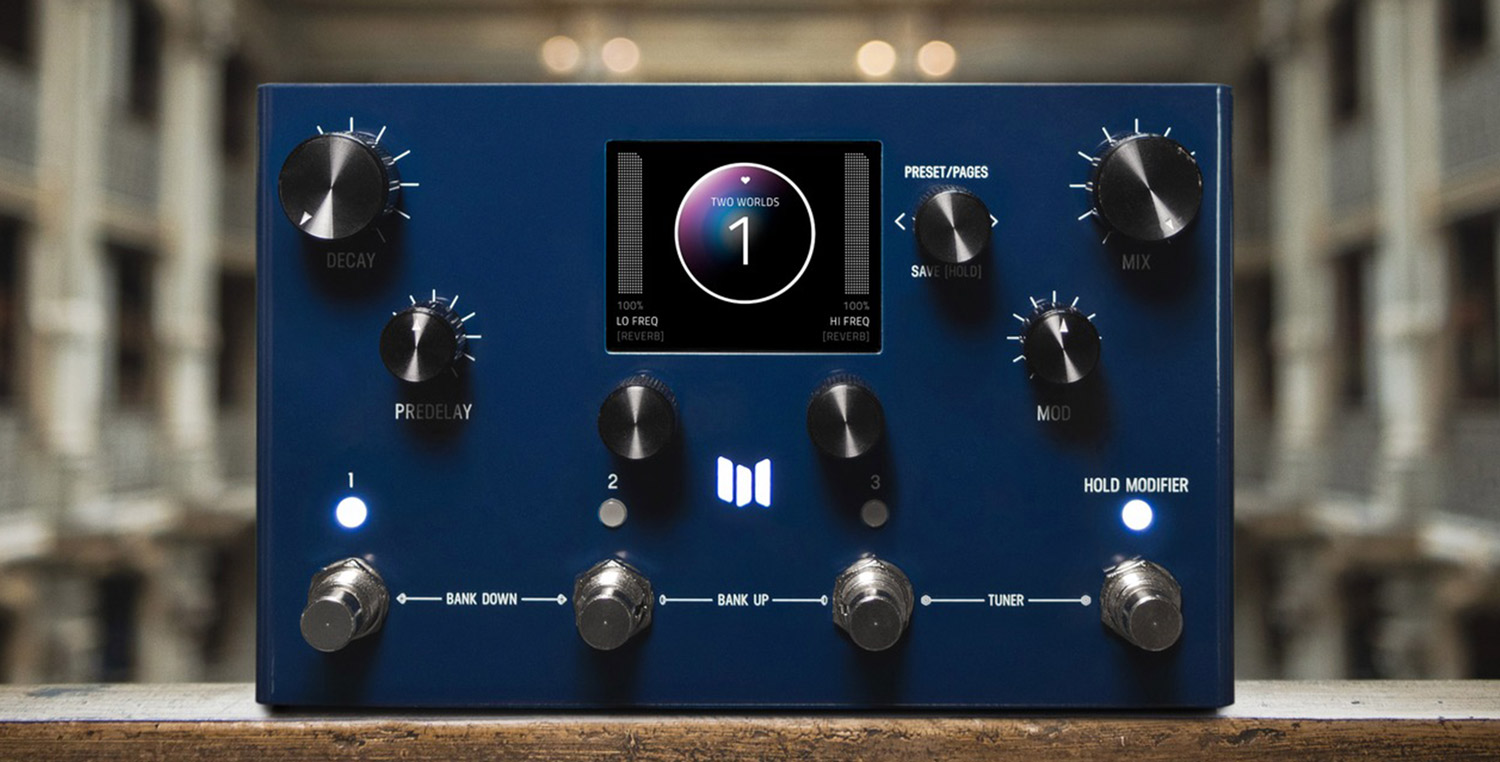 Meris unveils the MercuryX Modular Reverb System Pedal
Meris has done it again with the release of the new MercuryX Modular Reverb Pedal. The MercuryX expands on one of their most popular pedals, the Mercury 7 by adding Preset Recall, exciting new Reverb algorithms, flexible modulation and a unique user interface that continues in the style of their genre breaking LVX Modular Delay Pedal.  The MercuryX is a studio grade Reverb processor but in pedal form rivalling many high end rack-mount effect units. It is just at home on synths and keyboards as it is on guitar.
MercuryX takes the heart and soul of Mercury7 and expands it far beyond sci-fi into the highest quality and most flexible studio reverb ever created in a pedal format. Its modular reverb system format breaks the paradigm of pre-set reverb types and inspires new discoveries. MercuryX features the same easy to use UI as LVX, making it immediately intuitive to navigate. The pedal features 8 custom reverb algorithms, discrete processing elements and control signal modifiers that can be connected as desired for infinite flexibility in crafting custom reverbs. Transcend to New Worlds. MercuryX is available and shipping now.
Check out the rear connections on the MercuryX. It has everything you need and everything their customers have asked for. This includes; fully balanced 1/4 inch jacks, EXpression pedal input, old school MIDI I/O; USB C connectivity and 9V Power.
MercuryX Features Include:
• Modular Reverb System architecture
• 8 Custom Meris Reverbs; Ultraplate, Cathedra, 78 Room, 78 Plate, 78 Hall, Spring, Prism and Gravity • Expanded 2.54 secs of Stereo Predelay with modular Feedback Routing Location
• Advanced ARM Processor
• Configurable Reverb Structures, Types, and Processing Elements for the ultimate customization
• Intuitive Color Screen based User Interface
• Expressive Hold Modifier Switch for on the fly control
• 99 Preset Locations in 33 Banks
• Favorite Preset Bank for instant access to your 3 favorite presets
• Instant Access Tuner with configurable Reference and Output mode
• Deep Modifier Section lets you route control signals to processing parameters
• New Independent Stereo Freeze alongside reverb
• Gate Envelope Controls for every reverb type
• All New Processing Elements including 79 Chorus, Vibrato, Vowel Mod, Tremolo, Hazy Lo-Fi and more • Selectable Note Divisions for each side of the stereo Predelay
• Digitally controlled Analog mix bus
• Stereo input and output with separate jacks for each
• Switchable input/output headroom level for Instrument or Synthesizer / Line levels
• MIDI In and Out over standard MIDI Din Jacks
• Assignable Expression Pedal control for multiple parameters simultaneously
• Dedicated Expression Pedal Jack
• MIDI implementation for Continuous Control Parameters
• MIDI Preset Send and Receive
• MIDI beat clock synchronization
• Premium analog signal path and 24-bit AD/DA w/32 bit floating point DSP
• Premium Analog Devices JFET input section
• Dimmable screen and logo light
• Color – Deep blue glossy coat
• Designed and built in California, U.S.A.
Have a listen to this Awesome first look DEMO by The Pedal ZONE
All Meris gear is designed and built in California, USA.
Contact us or one of our Authorised Meris Retailers for more info HERE